While shoe restoration makes up the bread and butter of William Windham Shoe Repair, it is by no means the only service that we offer to those in Redondo Beach, CA. In addition to repair work for boots, belts, handbags, and luggage, we also dabble in a bit of locksmithing. Are you looking to get an extra set of keys for one of your locks? Then you are in luck, because our key makers do key duplication and reproduction, too!
A Tricky Process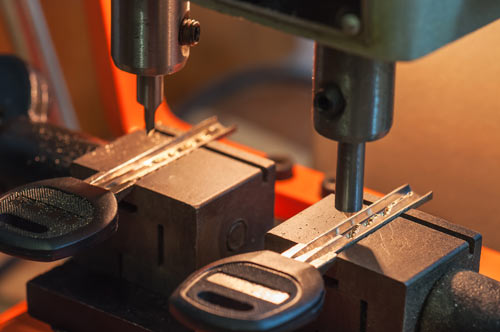 Creating a new key involves the careful measuring of the original's unique pattern of teeth and replicating it by cutting a blank to match. Simple in theory, but not quite so in actual practice: even with the use of modern machinery, handlers must be careful when guiding the shaping process to ensure that the finish is clean and precise.
Rough cuts can warp the shape of a key, making it difficult — if not outright impossible — to use in its corresponding lock. And because the original will wear over time with repeated use, a locksmith and key maker must be careful to ensure that the twin does not replicate this erosion and become unreliable to use from the get-go!
Also integral to the key duplication process is the necessity of choosing a blank of the proper thickness to shape in the first place. A duplicate made from one even slightly thinner or thicker than the parent key will prevent proper performance, even if the teeth are accurate. And this holds true even for basic, one-in-a-million varieties that everybody seems to have a dozen of; if your key is older or otherwise comes with a unique shape or size, finding the right template and method needed to recreate it will be even trickier.
Quick and Easy Copies
William Windham Shoe Repair strives to be an inclusive source for the repair and maintenance of all of your everyday accessories, whether they are worn or come attached to something else. Key duplication and reproduction is no exception! Our key makers offer both convenience and reliability to Redondo Beach, CA clients, so whatever your need for an extra key may be — for your car, home, or the secrete chest of valuables that we definitely won't tell anybody about — we will get it to you in no time. Contact us today!